Bienvenue dans la rubrique d'information
Welcome on my information page
Likez notre page Facebook, vous pourrez y être informé de nos manifestations, expos?
Like to follow us You will read on Facebook all details about my moves, exhibitions, trade fairs?
www.facebook.com/chezjeanmichel.net
---
"Tintin et le Chat" de Philippe Geluck sont à WATERLOO ! ;-)
Ornella vous accueille dans sa nouvelle boutique
24, passage wellington à 1410 Waterloo
Ouvert de mardi à samedi de 10 à 18h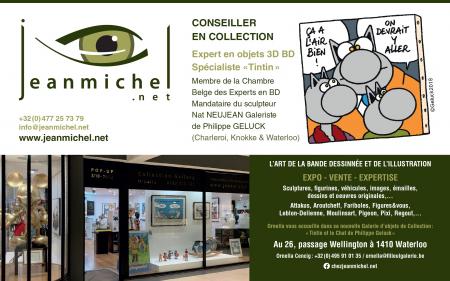 ---
La galerie « le Palais du bas »
27, rue de Marcinelle à 6000 Charleroi
Est ouverte sur Rdz-vs
Reportage TV :
2018 : www.facebook.com/chezjeanmichel.net/videos/270159933626053
Likez notre page pour être tenu informé des activités de la galerie ;-)
---
N'hésitez pas à m'envoyer vos listes d'objets à vendre, je peux vous aider à trouver les collectionneurs qui recherchent l'objet que vous vendez ! Do not hesitate to send me your list with objects for sale, I can help you to find collectors interested to buy them !
---
De petites modifications sont toujours à faire ! Si vous remarquez quelque chose ou si vous avez des soucis ou des questions, n'hésitez pas à me contacter. Merci Still some modifications to do, if you see something or for any problems or questions or suggestions send us a mail ! Thanks
---
TVA BE 0652.544.338 - RCV 70419
oui-galerie © 2001-2020 - Réalisation : anvi